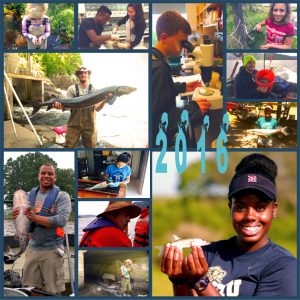 The Hutton Junior Fisheries Biology Program is a paid summer internship and mentoring program for high schools students, which is sponsored by the American Fisheries Society (AFS). The principal goal of the Hutton Program is to stimulate career interest in fisheries science and management among groups underrepresented in the profession, including minorities and women. Selected students known as "Hutton Scholars," are matched with a mentor for an exciting, hands-on experience in fisheries research in a marine or freshwater setting.
The 2016 summer internship program, received 210 student applications and 90 mentor applications. Thanks to our financial supporters, the Hutton program is able to fund 38 high school juniors and seniors who  were matched with 35 lead mentors in Alaska, California, Colorado, Florida, Georgia, Montana, Minnesota, Maryland, Mississippi, Missouri, Nebraska, New Jersey, New York, Oregon, Tennessee, Texas, Wisconsin, Wyoming and Sinaloa, Mexico. The 2016 Hutton Scholar cohort demographics included 34% minority males, 39% minority females, 16% non-minority females, and 11% non-minority males.
The Hutton Program continues to fulfill the goal of introducing students to the academic pipeline leading to careers in natural resource and environmental sciences. The program collaborates with supporters from universities, AFS chapters, federal and state agencies and private sectors to increase awareness of conservation issues, the importance of healthy aquatic systems, and career opportunities in fisheries, as well as to promote benefits of community and youth engagement by emphasizing the importance of strong role models and mentors for young scholars.
For more information, see: www.hutton.fisheries.org